Table of Contents:
Introduction: Soundings/Sightings
Chapter 1: Writing Women: Problematics of History and Language
Chapter 2: Norman Knights, Anglo-Saxon Women, and the "Third Sex:" The Masculinization of England After the Conquest
Chapter 3: Hedging in Men and Women: The Margins as Agents of Gender Construction
Chapter 4: Edging Out Difference: Revisiting the Margins as a Postmodern Project
Afterword: Social Control through Multivalent Images
Madeline H. Caviness
Reframing Medieval Art:
Difference, Margins, Boundaries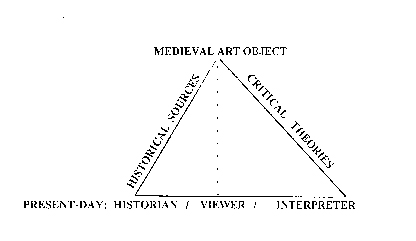 Comments: madeline.caviness@tufts.edu
©Madeline H. Caviness, 2001
Copying of materials on these web pages is not permitted: The text is copyrighted but may be printed out or downloaded free of charge. All illustrations are protected by copyright and are not in the public domain, though they may be printed out with the text. They have been used here only with the express permission of the individual copyright holders. Any form of reproduction, duplication, downloading, transmission, commercial use, display, rental, lending or storage in any retrieval system is prohibited by copyright laws and international conventions without the written consent of the copyright holders. Requests to purchase photographs should be directed to the individual copyright holder as indicated in the caption.