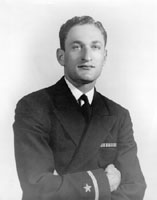 Years at Tufts:
Degrees:
Tufts E1945, Mechanical Engineering High School, Waltham, MA
Past Memberships and Offices:
American Society of Mechanical Engineers; American Society of Materials Handling; Institute of Packaging Professionals; Phi Epsilon Pi Fraternity; Temple Beth Elohim, Wellesley, Mass.
Current memberships:
President of Class of 1945; Board of Directors of Cape Cod Tufts Club; Co-Chair of V-12 / NROTC Memorial Committee and Tisch Library Exhibit; Tufts Alumni Council; Traditions Committee; Co-Chair of Class Reunions
Married:
Eleanor H. Berkovich, May 2, 1959. Boston University, CBA, 1948
Children:
Howard A., Tufts, E1984, MBA Babson 1989; James P., Connecticut College, BA 1988
Avocations:
Reading, Theatre, Symphony, Gardening.
World War II Duty:
NROTC, Tufts University, September 1941 - Commissioned February 1944.

Sub Chaser Training at Bar Harbor Section Base (née Yacht Club), Bar Harbor, Maine.
Additional training at Sub Chaser Training Center, Miami, Florida.

Convoy duty, Caribbean Sea and South Atlantic on board 128 foot wooden-hulled Sub Chaser (SC-1298).

Through Panama Canal to San Diego and on to Pearl Harbor, Hawaii, for outfitting as Invasion Landing Control Vessel.
Invasions of Iwo Jima, Okinawa and three other smaller Okinawan Islands.

Office of Naval Research at Guggenheim Estate, Sands Point, Port Washington, Long Island, New York.