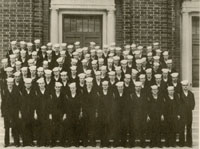 In May of 1941, Tufts was selected as one of eight colleges and universities to receive a new Naval Reserve Officers Training Corps (NROTC) unit. The NROTC prepared men who had demonstrated outstanding leadership potential to serve as commissioned officers. The demanding program supplemented college stu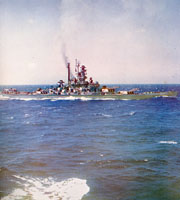 dies with rigorous military training.
A large number of freshmen applied to the prestigious program, but not all could pass the physical entrance exams. Only one hundred men were admitted each year. Selected students felt very proud.
Students from the V-12/ NROTC unit were commissioned as Ensigns and served both in the Atlantic and the Pacific theatres, and later in the Korean War.
Many V-12/NROTC students were assigned to the Amphibious Navy, others to Landing Ship Tanks. Tufts students were well represented in major battles across the Pacific such as Lingayen Gulf on the island of Luzon, Saipan, the invasions of the Philippines, Iwo Jima, and Okinawa and in the occupation of Japan. Almost half of the members of the classes of 1945 and 1946 had some involvement at Okinawa, one of the most fiercely fought battles of World War II.
Most of the V-12/NROTC students were separated from the Navy with the end of the World War II after Japan's surrender on August 15 of 1945 and returned to Tufts to complete their interrupted educations. Some did no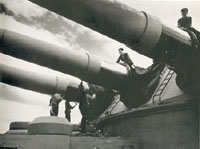 t end the relationship with the regular Navy and had involvement with the Naval Reserve. Several retired from the Navy as lieutenant commanders, commanders, captains, and one as admiral. Peter Merenda, Fran McCarran, Dick Rome, Warren Jackson, and Andy Bodnaruk attained the rank of captain in the Naval Reserve.
Many enlisted sailors who were serving in the Fleet prior to the creation of the V-12 in 1943, entered into the program after World War II. After being commissioned as officers, they were called to active duty during the Korean War. John Rogers, A47, after serving as an enlisted quartmaster second class in the North Atlantic and the South Pacific in 1942-44, was recalled in 1950 for service again in the Korean War.
Members of the V-12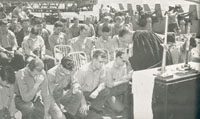 / NROTC also established families and built their careers in many different areas. Some earned Master's and Doctoral degrees. After distinguished careers most, today, have retired. Some are still at it, vowing to continue working as long as they remain in good health.
The wartime V-12/NROTC graduates echo a common theme: the profound and positive influence of their Navy experience on their lives. Early leadership experience on campus and in the fleet, 'hands-on' ship operations and the ability to think and act under stress had a powerful impact on both their careers and personal lives.